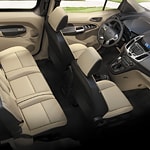 The Ford Transit Connect is a popular cargo van and passenger wagon that includes several useful convenience features that will ultimately allow you to have the best driving experience possible. Whether you plan to use this vehicle to take passengers on a road trip or you intend to use it for work, you will find that it offers several useful benefits.
The Ford Transit Connect features dual sliding side doors that ultimately help make it easier to load and unload passengers and cargo. The step-in height of this vehicle ensures that all passengers will be able to get in and out of the vehicle with no hassle.
If you need a vehicle with flexible seating, the Ford Transit Connect has you covered. This vehicle can seat up to six or seven passengers. Aside from this, the rear seats can be folded so that you will have more room to load all of your extra gear.
Are you interested in learning more about the Ford Transit Connect? If so, take it for a test drive today to see the many features and benefits it offers.