Why Buy From Jack Kain Ford
Jack Kain Ford is a family-owned Ford dealership in Kentucky, built on a foundation of honesty and integrity. From the moment you walk into our showroom, you'll know our commitment to customer service is second to none. We strive to make your experience with Jack Kain Ford a good one for the life of your vehicle. Whether you need to purchase, finance, or service a new or pre-owned Ford, you've come to the right place.
A true passion for cars, customers, and family. Lexington native Jack Kain knew long before purchasing his first Ford dealership near Lexington, KY, that he would spend his life working in the automotive industry. The son of a dairy farmer, Jack learned the true meaning of a hard day's work at a very young age. Although he appreciated and respected his father's line of work, he knew that it wasn't for him.
While attending the University of Kentucky in 1947, Jack sold cars part-time. It came to him easily, as his customers picked up on his honest approach and genuine concern for their satisfaction. Those qualities would soon define Jack's reputation in his community, and after spending several years stationed in Alaska during the Korean War, Jack returned home with high ambitions.
Mon - Sat

9:00 AM - 6:00 PM




Sun

Closed
Mon - Fri

7:30 AM - 6:00 PM




Sat - Sun

Closed
Mon - Fri

7:30 AM - 6:00 PM




Sat

8:00 AM - 3:00 PM




Sun

Closed
Mon - Fri

7:30 AM - 6:00 PM




Sat

8:00 AM - 3:00 PM




Sun

Closed
Mon - Fri

7:30 AM - 6:00 PM




Sat - Sun

Closed
Mon - Fri

7:30 AM - 6:00 PM




Sat

8:00 AM - 3:00 PM




Sun

Closed
Mon - Fri

7:30 AM - 6:00 PM




Sat

8:00 AM - 3:00 PM




Sun

Closed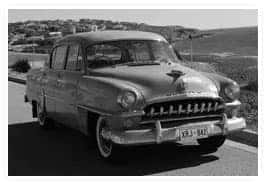 A DeSoto-Plymouth dealership in Frankfort, KY caught Jack's attention and he managed to acquire it in 1953. However, with two direct competitors in very close proximity to his business, it was difficult to turn a profit. The market was simply too small to support all three dealers, and as a result, they were losing money. So Jack decided to take a risk, and buy up his competitors. Doing so made him one of the original "six-pack" dealers in the United States, which caught the attention of a rather special auto maker: Ford Motor Company. They wanted to start a Frankfort-based Ford dealer with him, and Jack saw the proposal as a great opportunity to grow his business and reach out to more of the customers looking for used cars near Georgetown, KY that were so important to him.
In April of 1961, Jack stood in front of his first Ford dealership in Kentucky, surrounded by the dedicated staff that he always treated like family. Although a large portion of the people in the photo to the right has since passed away, Jack can still remember them by name today. Thoughts, memories, and emotions pass through his mind as he recalls the stories and experiences that he shared with his family of employees at his Ford dealership in Lexington, KY. That genuine concern for his staff and customers served Jack well and allowed him to greatly expand his Ford dealership over the years, all the while maintaining that warm family feel.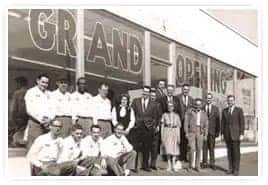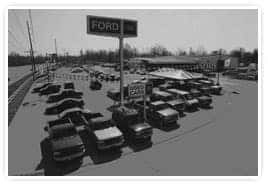 Versailles, KY became the new home for the Jack Kain Ford dealership in Kentucky in 1979, and it's remained there ever since. From 1979 through 1981, the dealership was actually located in downtown Versailles, but after a three-year run in that location, Jack picked everything up and moved into a brand new building located off the bypass in Versailles. In 1991, he bought a second location in London, KY. It was to be called Kain Family Ford and it would soon evolve into a thriving auto group. Around that same time, Bob Kain, now General Manager of Jack Kain Ford, would find himself moving up from a Sales Consultant position at the Versailles location, to the New Vehicle Sales Manager role in London.
Business was great and it just kept getting better at his Ford dealership near Lexington, KY. In 1994, Kain Nissan was established as a part of the auto group in London. Just a year later, a Chevrolet dealer and a "six-pack" Chrysler dealer in Williamsburg, KY were both acquired as well. The Kain brand was growing and Jack's children were all gaining invaluable car sales experience throughout the process. With the new millennium approaching, Jack saw the opportunity to better his business yet again when he received excellent offers on several of the stores in his auto group. In 1999, he would sell the Chevrolet and Chrysler dealerships. Just five years later, Kain Nissan would find new ownership as well. With a lifetime of business experience tied to his name, Jack set his sights on a new home for his Ford dealership.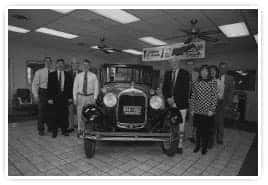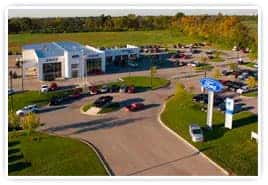 A state-of-the-art facility for his Ford dealer would, of course, still be located in Versailles. Just like his very first dealership, it would always have that warm family feel. After all, Jack would be working alongside four of his children (Bob, Vickie, Pat, and Bill) every day, selling new and used cars near Frankfort, KY. But even after moving into his new and comfortable location, Jack had no intention of slowing down. In 2005, he would fulfill his role as Chairman of the National Automobile Dealers Association (NADA). In 2012, he would sell the remainder of Kain Family Ford, his auto group in London, KY. And just a year later, he would be honored by Ford Motor Company while accepting the Salute to Dealers award, which publicly recognized his lifelong commitment to serving his community.
A regional landmark. Jack Kain Ford stands proud today as a symbol of what integrity and hard work can do for a community, a family, a friend, and a customer. We've satisfied over 70,000 customers throughout the past six decades, and we're here today to show you what it means to do business with an honest company that always puts customer satisfaction first - both before and after the sale, whether they're looking for a Ford dealer or used car lots in Nicholasville, Kentucky. Come visit us today.