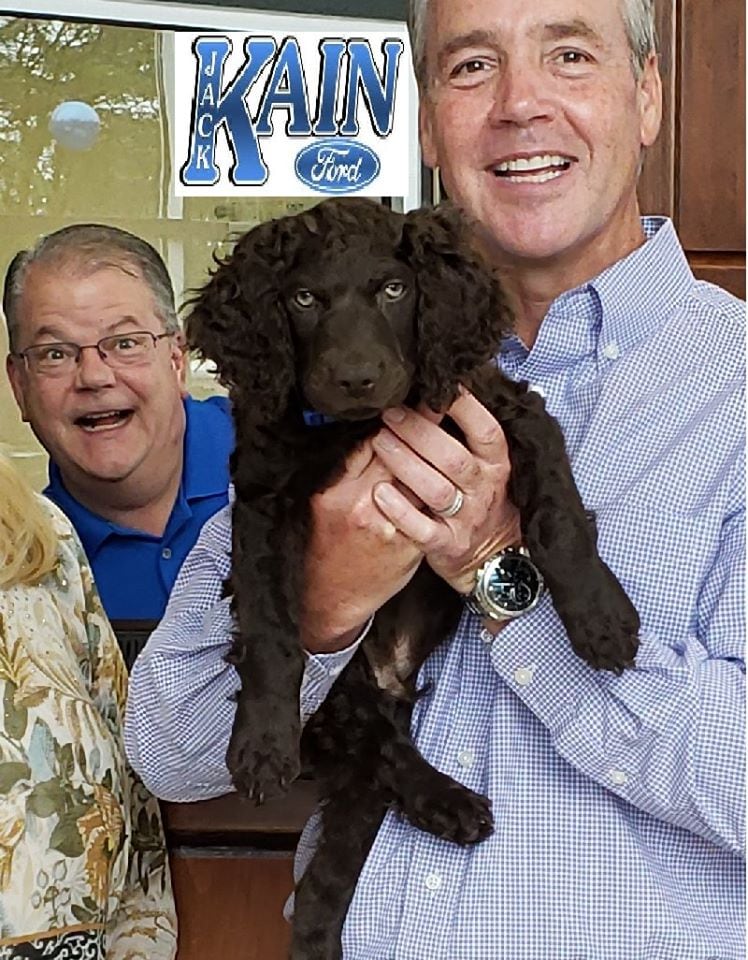 "Welcome to Jack Kain Ford Blue dog" said our receptionist, the first morning our new work puppy arrived. I turned around and there in front of me was a puppy like none other. So brown he looked red, short curly hair all over his body, upper legs and top of his head. The curly, shaggy hair stopped short right above his kneecaps, almost like he's wearing knee socks. What do my eyes behold, what breed of puppy is this? I must've said it out loud because I heard "That's a Boykin Spaniel, they're bred in South Carolina, his name is Blue (think blue Ford oval), he has a sister named Roo and together they'll learn how to field trial…" said new car manager Bill Kain.
Field trial? I didn't know what field trials were, I'm a city girl (must be a Carolina kinda thing right?) …whatever this field thing was apparently our Blue puppy was good at doing it. Or so they thought. As a baby Blue visited the dealership on Monday's, Wednesday's, Thursday's, Friday's & Saturday's, with the occasional day off for potty training or field trial training with sister Roo. As he started spending less time training and more time at Jack Kain Ford it begged the question, is Blue better suited for office work or field work? We found our answer to be more like this; sometimes a feller just isn't cut out for going to school. Sometimes a feller is more suited to "blue collar" work. That would be our Blue puppy.
At 8 months old now, Blue dogs' schedule holds true week after week, he's off on Tuesday's & sometimes Thursday if he finds it hard to get out of bed. He comes in to meet and greet our human customer's and their canine companions. First thing every morning Blue makes the rounds traveling from office to office to say hello and beg an early morning treat. After a short nap under his dad's desk, its time to make the rounds and beg for a second treat, or third. He plays a little, jumps on some desks, somebody whisks him outside for a potty break and then he's back…his pretty brown coat cold from the winter temps. Occasionally Blue will curl up in front of someone's under the desk heater and sleep his little puppy heart out.
In the 1800's Henry Wheeler Shaw wrote "A dog is the only thing on earth that loves you more than you love yourself." That saying still holds true to this day. Blue dog is our work dog but he's more than that. He's a set of beautiful eyes staring into your soul when you feel a little down. He's a rotten little beggar, like the homeless, when he wants some of your food. He may belong to Bill & Lynne Kain but it feels like he belongs to us all and he makes every moment at work all the better because he's in it with us. Go Big Blue!